NEWS & EVENTS

Thank you, MAQ, for this beautiful article:
"Birds Of A Feather: Oma" by Nancy Karlson-Berg

Madrid Artist Quarterly Spring 2017
Have goose will travel. Oma and Esmeralda were written up in the Albuquerque Journal: "Is a Rail Yards visit in the cards?"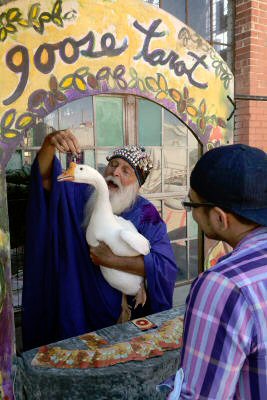 photo by Greg Sorber.
Oma and Esmeralda can be found at the Santa Fe Rail Yards on Sundays.
Whirling!
The image on this poster is from the film The 1 of Hearts that debuted on June 6 at the KiMo Theater in Albuquerque. The screening included sacred whirling dance by Oma.
GALLERIES
Naren-Oma's work is now showing at the METALLO GALLERY in Madrid, NM.